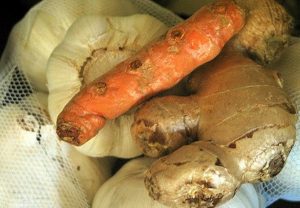 Today's anti-aging hacks are about my three favorite spices.  I think we forget how healthy spices are for us.  So cook with them or take them as a supplement – any way you can get them into your regimen will benefit you.  And here's why:
Ginger is packed full of vitamins and minerals.  But as a spice it's not for everyone.  Even if you don't like the taste of ginger you can get the health benefits from a supplement.  So rethink ginger because it calms the stomach, reduces inflammation and pain, lowers blood pressure and improves blood circulation.  Ginger also has improved the blood sugar and homocysteine levels in diabetic mice models, resulting in improved heart structures.
Garlic is either an herb you love or hate.  But undeniably it's so good for you. Garlic, not only being a natural antibiotic for colds and flus, is said to help you live longer.  It can lower your blood pressure, reduce inflammation and improve your circulation.  A study done on postmenopausal women showed that taking a garlic tablet daily improved bone loss. Oh, and don't forget, It'll keep the vampires away too :).
Curcumin could possibly be the holy grail of all spices.  It may actually delay and fight age-related diseases by blocking inflammation.  And the active ingredient, Zingiberaceae, "has shown potential antidepressant-like activity in animal studies."  And I can't forget to mention how it protects  the brain and the fact that it's being used as a treatment for Alzheimer's.  I take 500mgs twice a day.
Have a great week!
For a healthy more beautiful you!
.
P.S.  If you're looking for a curcumin supplement click here for the one I use.
References:
Ilkhanizadeh B, Et. al. Protective Effects of Ginger (Zingiber officinale) Extract against Diabetes-Induced Heart Abnormality in Rats. Diabetes Metab J. February 2016.
Mozaffari-Khosravi H, Et. al. The effect of garlic tablet on pro-inflammatory cytokines in postmenopausal osteoporotic women: a randomized controlled clinical trial.  J Diet Suppl. October 2012.
Sikora, E. Et. al.  The Promise of Slow Down Ageing May Come from Curcumin.  Current Pharmaceutical Design.  March 2010.
Sanmukhani J, Et. al. Efficacy and safety of curcumin in major depressive disorder: a randomized controlled trial.  Phytother Res.  April 2014.
Zhang L, Et. Al. Curcuminoids enhance amyloid-beta uptake by macrophages of Alzheimer's disease patients.  J Alzheimers Dis.  September 2006.
Shrikant Mishra Et. al. The effect of curcumin (turmeric) on Alzheimer's disease: An overview.  Ann Indian Acad Neurol. January 2008.