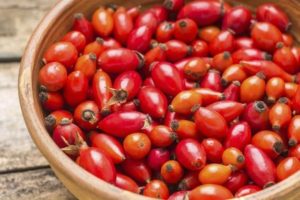 Once in a while I come across something I really love.  When this happens I can't stop reading, researching and learning as much as possible about my newfound interest.
And right now I'm having a love affair with rosehip.  Up until recently I really only thought about them for potpourri and some skin products.  I also knew them to sometimes be in Vitamin C supplements.
I really didn't think much about them.
The name rosehip doesn't conjure anything powerful or strong in my mind.  I just assumed they were in products for scent or for flavor.
But I was very wrong.
If you don't know, like I didn't, a rosehip is the fruit of the rose plant.  I had no idea that those little seed-like things were a fruit, and an edible one at that.
Rosehip originates from ancient Persia and have been used throughout history, from ancient Catholics in their rosaries to ancient Romans for healing rabid dog bites. During WWII, when fresh oranges were scarce, they were made into a syrup to protect people from scurvy (a Vitamin C deficiency).
This fruit is packed with vitamins and minerals such as Vitamin C, Vitamin A, Vitamin K, Vitamin E, potassium, magnesium, calcium, iron, manganese, beta carotene, lycopene, lutein, and zeaxanthin.
Because rosehip is so rich in nutrients, the health, skin and hair benefits are amazing.
Health Benefits of Rosehip
Rosehip may be taken in a capsule, powder or a tea and the amount will depend on the therapy.
Here are some of the health benefits:
Increases blood flow and circulation
Reduces inflammation
Boosts immune system
Lowers cholesterol
Increases urination
Prevents cancer
Lowers blood pressure
May help regulate diabetes
Strengthens bones
Decreases symptoms and pain associated with rheumatoid arthritis and osteoarthritis
There are so many surprising and incredible studies which feature this little fruit.
They prove, time and time again, that rosehip cuts the risk of heart disease. Participants saw a significant reduction in cholesterol and blood pressure. Patients who took a daily supplement had decreased joint pain.
All results are remarkable, and worthy of investigating, if you have any of the above problems.
Rosehip for Aging Skin and Hair
If you are looking for younger, more radiant skin and a fuller head of healthy hair, then adding rosehip to your anti-aging regimen is a must.
There are two preferred methods of using rosehip for your skin.  Participants in an eight-week study, using three grams of powdered rosehip, saw an increase in moisture in the skin, decreased crows feet depth and improved skin elasticity.
However, if you prefer a topical product, you will the love the anti-aging effects of rosehip oil for your skin and hair . You can easily make your own or purchase one at a health-food store.
The oil is highly effective at protecting your skin and DNA because of its antioxidant capacity.
And because rosehip is high in Vitamin C, Vitamin A, beta carotene and lycopene, it will protect your skin. It will also build collagen and elastin while rejuvenating and lightening the skin.  That means tighter, smoother more radiant skin.
Rosehip oil has also been known to reduce dark circles and crow's feet.
Rosehip oil can also provide relief for eczema and scars, and is a great treatment for rosacea and acne.
In fact, in a post-surgical study, scars were minimized and significant differences in discoloration and atrophy were seen at six and 12 weeks.
Rosehip oil can repair damaged follicles and promotes hair growth.  Massage into the scalp and leave on as long as possible.   Shampoo out and style as usual.
You can also use rosehip oil for dry or damaged hair.  Use as you would any oil and see the damage disappear.  You may need a couple of treatments but it's well worth the effort.
Rosehip Oil Recipe
Here's the recipe I like for homemade rosehip oil:
1 Cup Rosehip
2 Cups Carrier Oil (almond, olive, apricot or jojoba)
1 Teaspoon Vitamin E Oil
Place rosehip in a slow cooker and cover with the carrier oil of your choice.  Let simmer on low for six hours.  Strain the the mixture through a cheesecloth or a fine colander.  Poor into a dark-colored jar and mix in the Vitamin E oil (that's your preservative).  Refrigerate to keep longer.
With any version of rosehip make sure it's organic. You don't want to be ingesting or absorbing pesticides.
A few words of caution — If you have a bleeding condition rosehip may slow clotting. Also, people with kidney stones or a history of kidney stones should be careful because of the high Vitamin C content.
And one final tip – studies revealed that breathing rosehip oil had a relaxing effect, relieving the symptoms of depression and stress.
To a healthy more beautiful you!

Sandy DeRose
P.S. A great exfoliator that I use actually contains rosehip.  It's so natural and unlike any exfoliator out there.  It evens out my skin tone, leaves my skin radiant and clean.  And because I want you to experience the same feeling I do when I use Glow      , I've been able to secure a special price for you — but only for a short time.   Glow , is regularly priced at $49.99 per jar.  But you can get it for $31.99 each for a two-jar purchase.  That's a saving of $36.00.  Click here to take advantage of this special deal.
________________________________________________________________________
References:
Rose Hip Authority.  The authority on everything Rose Hips and Rose Hip Seed Oil (RHSO).  July 2015.
Cui Fan, Et. al.  Rose hip (Rosa canina L): A functional food perspective.  Functional Foods in Health and Disease.  2014.
Andersson, U., Et. al.  Effects of rose hip intake on risk markers of type 2 diabetes and cardiovascular disease: a randomized, double-blind, cross-over investigation in obese persons.  European Journal of Clinical Nutrition.  2012.
Christensen, R., Et. al. Does the hip powder of Rosa canina (rosehip) reduce pain in osteoarthritis patients?–a meta-analysis of randomized controlled trials. Osteoarthritis Cartilage. 2008.
Rosehip.  Arthritis Research UK.
Nikolova G., Et. al. Protective effect of two essential oils isolated from Rosa damascena Mill. and Lavandula angustifolia Mill, and two classic antioxidants against L-dopa oxidative toxicity induced in healthy mice.  Regul Toxicol Pharmacol. 2016.
Phetcharat L., Et. al. The effectiveness of a standardized rose hip powder, containing seeds and shells of Rosa canina, on cell longevity, skin wrinkles, moisture, and elasticity.  Clin Interv Aging.  November 2015.
Grajzer M., Et. al. Characteristics of rose hip (Rosa canina L.) cold-pressed oil and its oxidative stability studied by the differential scanning calorimetry method.  Food Chem.  December 2015.
Pedro Valerón-Almazán, Et. al. Rosehip Seed Oil.  Journal of Cosmetics, Dermatological Sciences and Applications. 2015.
Shabykin GP., Et. al. A polyvitamin preparation of fat-soluble vitamins (carotolin) and rose hip oil in the treatment of certain dermatoses.  Vestn Dermatol Veneral.  1967.
Dogan, A. and Kazankaya, A. Properties of Rose Hip Species Grown in Lake Van Basin (Eastern Anatolia Region).  Asian Journal of Plant Sciences.  2006.
Marchini, F.B., Et. al.  Rosehip Oil Effect on the Healing of Open Wounds. Revista Paulista de Medicina.  1988.
Camacho, F., Et. al. Treatment of Post-Surgical Scars and Pure Oil Rosehip Seed Defects. Cutan Med Ibero Lat Am.  1994.
de Limpens A.M., J.  The Local Treatment of Hypertrophic Scars and Keloids with Topical Retinoic Acid. British Journal of Dermatology.  1980.
Torok, H.M. and Pillai, R.  Safety and Efficacy of Micronized Tretinoin Gel (0.05%) in Treating Adolescent Acne. Journal of Drugs in Dermatology.  2011.
Hongratanaworakit T.  Relaxing effect of rosehip oil on humans.  Nat Prod Commun. 2009.