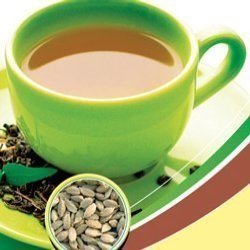 Here are your weekly anti-aging hacks:
Sipping some ginger, cinnamon and cardamom tea will improve blood circulation and lower blood pressure.  In fact, a study revealed that participants taking one teaspoon of cardamom daily for 12 weeks dramatically reduced their blood pressure.
Have trouble with cold sores?  Try applying vanilla extract the minute you feel it coming on.  Dab on with a cotton swab 4-6 times a day until it's gone.
Helix aspersa muller and escargot are fancy ways of saying snail and they are showing up in skincare.  And for good reason.  You see, snail slime, when applied topically, stimulates collagen and elastin, reduces photo-aging and increases the skin's natural ability to hold water.  So when you're on the market for a new skin cream or serum remember the snail.  Studies have shown remarkable skin regeneration, from the snail's mucus, for aging, scars, burns and blemishes.
Recently I wasn't feeling well, very nauseous, which was possibly from a sinus drip.  But it stopped me in my tracks and I had to lay down for the rest of the day and the next day.  During this time I was craving apples so my fiance went to the store to get me some (he's such a good caretaker).  While he was at the store my curiosity got the best of me so I Googled foods to help with nausea. And, sure enough, apples came up.  The reason I'm sharing this story with you is because I think it's so important to listen to your body.  Your body is amazing and knows what it needs.  I wrote another article on this topic.  If you missed it you can read it here .
Have a great week!
To a healthy more beautiful you!
Sandy DeRose
References:
Verma SK, Et. al.  Blood pressure lowering, fibrinolysis enhancing and antioxidant activities of cardamom (Elettaria cardamomum).  Indian J Biochem Biophys.  December 2009.
Tsoutsos D, Et. al.  The efficacy of Helix aspersa Müller extract in the healing of partial thickness burns: a novel treatment for open burn management protocols.  J Dermatolog Treat.  2009.
Iglesias-de la Cruz, M.C, Et. al. A secretion of the mollusc Cryptomphalus aspersa promotes proliferation, migration and survival of keratinocytes and dermal fibroblasts in vitro. International Journal of Cosmetic Science.  2012.