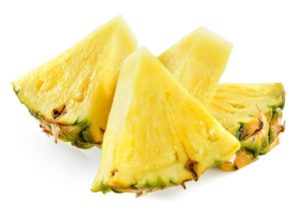 Did you know that red lipstick can make you look older and accentuate lines on your lips and above them.  Instead chose shades between coral and soft pink.
Have forehead lines and want to cover them? Forget Botox – get a pair of bangs. Bangs have a youthful look to them so you'll be taking off the years and covering up the lines with just a visit to your hairdresser (not a plastic surgeon).
Taking "me' time has been shown to reduce stress.  Stress is one of the causes of premature aging or making your face look sunken and older than your years.  Call one of your besties and make some 'me' time.
You may already know about the health benefits of omega-3s. But they are just as important for radiant skin and shiny hair.  Olive oil and avocados are great sources.  If you're not getting enough omega-3s you may want to consider supplementing.
Applying fruit can brighten the face.  Take a slice of pineapple, watermelon or lemon and rub on the face.  Allow to dry, and rinse.  Do this often and you will see brighter, tighter skin. Do frequently and you'll see a younger you in no time.
For a quick exfoliator add a little sugar to your facial scrub.  This will freshen your skin. And, if you use a retinol product, it'll slough away flaky skin.
To help with under-eye puffiness, keep your eye cream in the fridge.  The cold cream will reduce bags and tighten the skin.
I have written several quick tips to look younger before and if you missed those articles you can catch up here .
Have a great week!
To a healthy more beautiful you!

Sandy DeRose
P.S. Check it out: Pure Radiance has launched a BEAUTIFUL new website click here to visit.