One of the Most Power Antioxidants …
A couple of weeks ago, in my weekly anti-aging hacks, I wrote about alpha lipoic acid.  Afterwards a friend of mine said, "I'm going to get mine right now."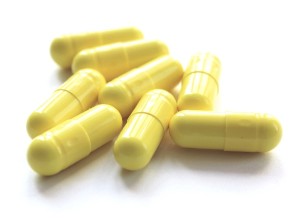 Later she whispered, "Why am I taking it?"  I chuckled and explained what an amazing antioxidant it is and rattled off some of the other health benefits.
I thought about our conversation a little later and scratched my head. Maybe others were feeling the same way?
So today I would like to tell you about the wonderful benefits of alpha lipoic acid.  And if you missed what I wrote a few weeks ago, here it is again:
"One of the most powerful anti-aging supplements is alpha lipoic acid or ALA for short.  It has anti-inflammatory properties, it's an antioxidant and helps convert glucose to energy which lowers blood sugar.  250mgs is all you need.  I could go on and on about ALA but you'll have to trust me on this one."
ALA is a synthetic version of lipoic acid and is a powerful antioxidant.
And according to Science Daily, "Researchers said they have identified the mechanism of action of lipoic acid, a remarkable compound that in animal experiments appears to slow down the process of aging, improve blood flow and enhance immune function."
ALA has the ability to cross the blood-brain barrier and protect your brain from oxidative damage (which ages your brain).
It's also fat soluble and water soluble, so it's easily absorbed.  Because of these traits, ALA is more effective at reaching and penetrating your cells, tissues and organs.
ALA supports and amplifies glutathione, COQ10, B Vitamins, Vitamin E and Vitamin C.  Making them work better.
ALA has been used to treat:
Chronic Fatigue Syndrome
Fibromyalgia
Peripheral Neuropathy (intravenous ALA or high doses – 600 to 1200mg)
Memory Loss
Age-Related Eye Diseases
Lime Disease
Heart Disease
Migraines
Liver Ailments
Brain Damage (after a stroke)
Alpha lipoic acid is also used to prevent bone loss and improve skin texture.
Very little lipoic acid is found in food so it's important to supplement if you want to achieve any of the benefits.
You might be deficient if you have memory problems, a weakened immune system or muscle loss.
For a more health beautiful you!
Sandy
Sandy DeRose
P.S. Time's running out for the half-priced special,  Simply Beautiful. If you want an extra boost of collagen, don't wait, only a couple days left. Click here to get yours today.
References:
Oregon State University. Lipoic Acid Explored As Anti-aging Compound. ScienceDaily. May 2007.
Ziegler D, Ametov A. Oral treatment with alpha-lipoic acid improves symptomatic diabetic polyneuropathy: the SYDNEY 2 trial. Diabetes Care. November 2006.
Vallianou N, Evangelopoulos. Alpha-lipoic acid and diabetic neuropathy. Rev Diabet Stud. December 2009.