This time of year always reminds me of when I was growing up in northeastern Ohio. I was still young, but I remember vividly how suddenly the daffodils would start to appear, as if from nowhere. It always fascinated me how the ground would be so barren and suddenly – there stood a few yellow flowers.
As soon as I saw them, I'd scurry back into the house for a pair of scissors, and then back out to cut a bunch to give to my mom. They always put a smile on her face.
I'm not sure what it was about those flowers that made us so happy. Maybe it was because daffodils signaled the end of winter. Or maybe it was just a special moment between mother and daughter.
Either way, daffodils have a special place in my heart to this day. And now, because I live in South Florida, I usually only see them in the grocery store right before Mother's Day.
My mom now lives in South Florida, and I still give her daffodils. But this year I've been thinking that I would really to give her something extra special on Mother's Day. So it hit me: Why not give her a gift from my office?
You see, my mom loves that I work for Dr. Sears. She's also a patient and always wants to know what we are doing, what new therapies and techniques we have, and what's new on the product list.
And I knew exactly which product she would love… because I've already been raving about one of Dr. Sears' newest product – a nighttime moisturizer.
I've been using it myself, and I love the texture. I can honestly tell you that it's one of the most luxurious creams I have ever tried.
But it doesn't just feel wonderful, it also works to repair your skin cells.
And perhaps most important of all, it helps maintain and extend your telomeres. These little caps on the ends of each of your chromosomes control how quickly you age. 
This new nighttime moisturizer from Dr. Sears, called TeloRevive, contains ingredients that he's been testing for years.
What makes this cream so special and unique is that it contains Uncaria tomentosa extract, a powerful ingredient found deep within the Peruvian rainforest.
The Ashaninka Indians, from Peru, call it "Cat's Claw."
A recent study was done on human skin with an extract of Cat's Claw. It was found that when applied topically it had the ability to repair DNA and reduce skin-cell death from UV exposure.1
The Peruvian natives also call this powerful ingredient the "miracle herb of the rain forest." 2
They also use it for inflammation, arthritis and wound healing.
But Dr. Sears has also added a number of other key ingredients to TeloRevive –CoQ10, melatonin and tocotrienols, three powerful antioxidants that protect your skin from free radicals that come from pollution and ultraviolet rays.
And he didn't stop there. Hyaluronic acid was also added, because it assists the other ingredients to be absorbed while plumping your skin and improving the elasticity.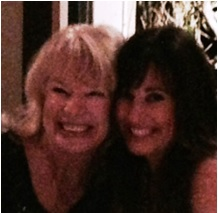 That is what TeloRevive does for your skin and why I know my mom will love it on Mother's Day.When your skin is hydrated, plumped, and the elasticity improved, the texture is smoother and younger-looking.
And I love it too, especially for my crow's feet and my neck. I noticed a difference immediately.
So when I mentioned to Dr. Sears that I would like to give TeloRevive to my mom for Mother's Day, he gave me permission to also offer this one-time special to you.
You won't see this anywhere else.
This is your chance to get a jar of TeloRevive for your mom and get one FREE for yourself.
Now you – and your mom – can eliminate the signs of aging together. Just click here for all the details.
Happy Mother's Day
To a younger more healthy you,


Sandy DeRose
1 Mammone T., et al. A water soluble extract from Uncaria tomentosa (Cat's Claw) is a potent enhancer of DNA repair in primary organ cultures of human skin. Phytother Res. March 2006.
2Herb list. A Guide To Medicinal Herbs. October 2012.