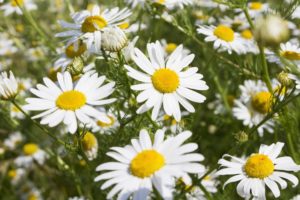 Here are your weekly anti-aging hacks:
1.    Last Monday I told you about all the amazing benefits of chamomile tea.  If you missed it here's what I wrote:
It's no secret that chamomile tea is relaxing and can be a sleep aid. But it has many other health benefits you might not  know.  You see, chamomile is high in antioxidants and has anti-inflammatory and anti-tumor properties.  It can improve circulation, vision and mood while strengthening bones.  If you are not a tea drinker, or you don't like chamomile, you can always add it to your smoothie.
Well there are more benefits I wanted to share with you about this pretty little flower.  Because it has anti-inflammatory properties when used topically it can calm the skin and heal acne, psoriasis and eczema.  And the antioxidants also protect the skin from free radicals – which ages skin.
2.    Regularly consuming 2-3 cups of ginger tea daily can slow down skin aging (maybe that's the beauty secret to Asian skin ?).
3.    If your bathroom habits are stopping you from getting a good night's sleep, try cutting your salt intake by 20%.  You see, researchers found that a simple diet change made a big difference in the frequency at which their subjects urinated.  Dropping from 2.3 times a night to 1.4 times.
4.    Dry shampoo has really regained popularity in the last couple of years.  But user beware!  It can clog your pores and smother hair follicles.  Once a hair follicle dies, the hair falls out and that follicle can no longer produce a hair.  So if you are a fan of dry shampoos, use sparingly.
Have a great week!
For a healthier you!

Sandy DeRose
P.S.  If you are looking for a natural sleep aid click HERE to try my formula PM … it's getting great reviews!
References:
Srivastava, JK., Et. al.  Chamomile: A herbal medicine of the past with bright future.  Mol Med Report.  2010.
Wise J.  Cutting salt could reduce need to urinate at night, study finds.  BMJ.  2017.
Chamomile for beautiful skin.